Zoom Security Best Practice – Faculty
Zoombombing – A new form of trolling in which a participant uses Zoom's screensharing feature to interrupt and disrupt meetings and classes.
The following four Zoom features will help you to further secure your Zoom classes.
1. Screen Sharing – Host Only
It recommended that users edit the default screen sharing setting in their zoom profile to allow only host to share screen. In order for you to access your Zoom account settings, please access https://georgetown.zoom.us, click on the 'SIGN IN' button and sign in to the Zoom website with your GU-Q NetID and password.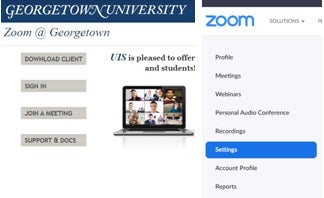 If a faculty wants a student to share their screen they can give co-host permission to specific students on a case by case basis temporarily during a zoom session.

2. Set Password for Zoom Classes
When scheduling a Zoom meeting in Canvas, input a numeric password in the password box.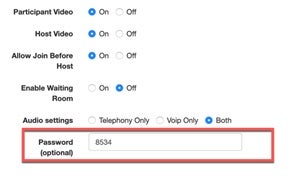 3. Lock Your Meeting
When you lock a Zoom Meeting that's already started, no new participants can join, even if they have the meeting ID and password (if you have required one).
While in meeting session, click 'Participants' at the bottom of your Zoom window.
In the participants' pop-up box, select (a) More and (b) Lock Meeting.
4. Remove Participant from Your Class
If you wish to remove a participant from the meeting. Place your mouse over the name of a person and click More and click Remove.